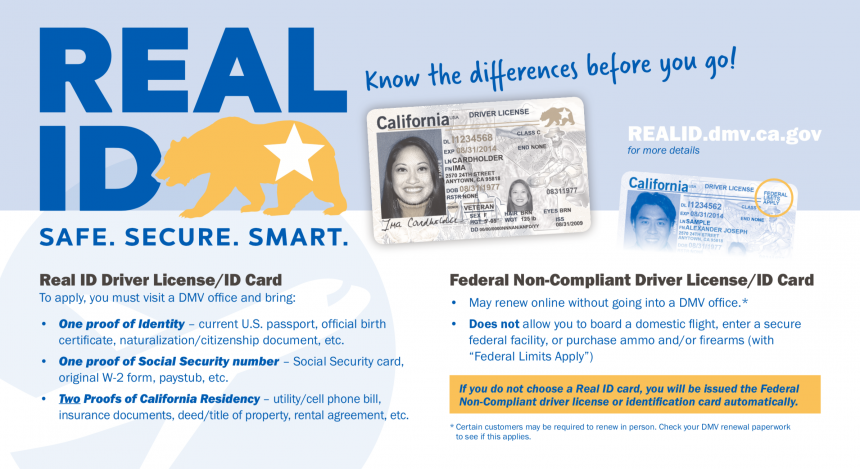 A California Real ID is a driver's license or identification card that meets the new federally accepted guidelines for identification of an individual. The changes come after the passing of the Real ID Act which is intended to improve security for drivers licenses and personal identification cards.
Final Deadline is Approaching
New requirements will go into effect on October 1, 2020 which will require a federally accepted means of identification in order to board domestic flights and to enter into federal facilities. Without a Real ID, you will either be required to show another method of identification that meets the federal requirements or you will not be granted access to domestic flights or federal facilities. The new Real ID requirements will not affect your ability to apply for a receive federal benefits from the social security administration or office of veteran's affairs.
In order to receive a Real ID, you will need to produce the following documents (a full list of all documents that are acceptable can be found here):
1) One documents that shows your date of birth and true full name such as a valid US Passport, certified copy of U.S. birth certificate, valid Permanent Resident Card, etc. Note: If your true full name is not shown on your document, additional name change documents will be required. Name change documents are typically a marriage license, divorce decree, adoption paperwork, etc.
2) One document showing your name and full social security number, such as a Social Security card, W-2, pay stub showing full social security number, etc.
3) Two documents that prove California residency that include your full name and address that shall be shown on the California Real ID. Examples of residency documents are mortgage bill, lease agreement, home utility or cell phone bill, vehicle or vessel registration, bank statements, medical statements, employment documents, etc.
The demand to get a Real ID is currently high due to the looming deadline of October 1, 2020. If you would like to get a Real ID or believe you will need a Real ID, apply now to start the process. Appointments and applications can be made online. To make an appointment, click here and to fill out your application online, click here. By making an appointment and filling out your application online, you will streamline the process and reduce the amount of time you are at the DMV. Once you have filled out your application online, you will receive an eight-digit alpha-numeric reference number.
DMV Appointment Steps
On the day of your DMV appointment, be sure to have all of your documentation and your eight-digit alpha-numeric reference number ready and available. You will be asked by a DMV representative for all of your items to ensure you are prepared to move forward with getting your Real ID. Once a DMV employee has reviewed your documents, you will be assigned a number and will be asked to wait until your number is called.
Once your number is called, you will proceed to the station as indicated. The DMV employee will ask what you are needing help with today and ask for all of your documentation. The employee will then verify that all of your documentation meets the new federal requirements per the Real ID Act. Don't be alarmed if the employee needs to have a supervisor verify your documents, this is standard operating procedure at many DMV locations. Once your documentation has been verified, you may be asked to complete additional steps depending on your current license status.
For example, if this is your first time obtaining a California driver's license, you may have to take a 36 question, multiple choice, knowledge test prior to being issued your Real ID. You will also be asked to take a new photo and have a scan of your right thumb print. Both the photo and thumb print scan are requirements per the California Vehicle Code. After you've completed all of the requirements to get your Real ID, you will be told that your new driver's license or identification card will be mailed to the address provided, typically within two weeks.
Donor Section
It's also worth noting that when you apply for a Real ID, you will be asked again if you'd like to become an organ donor. You may elect to become an organ donor by simply checking 'Yes' on your application. Remember, organ donation can save multiple lives and you can leave behind the gift of life. There are currently over 113,000 individuals, including children, that are on the wait list for an organ donation.
If you choose not to get a California Real ID, you will receive a driver's license or identification card that states "federal limits apply" and you will not be eligible for domestic flights within the US or to enter onto federal facilities.