Have You Received a California Traffic Ticket for a Distracted Driving Violation?
Apr 7, 15 by Ticket Snipers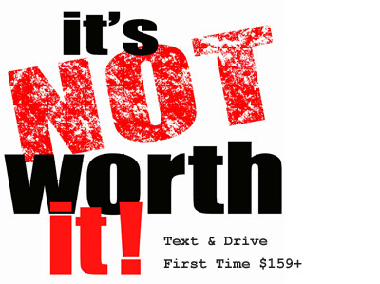 Ticket Snipers help individuals fight California traffic tickets each day. From speeding tickets and distracted driving tickets to parking tickets, we can help you avoid expensive fines and increased insurance rates by working on your behalf to dismiss the ticket. Protect your good driving record by contacting us today.
California Law Enforcement Agencies Participate in National Distracted Driving Awareness Month
California law enforcement agencies, the California Highway Patrol (CHP), Impact Teen Drivers and the California Office of Traffic Safety (OTS) are all taking part in campaigns during April to educate the public about the dangers of distracted driving. National Distracted Driving Awareness Month and the California Teen Safe Driving Week (April 1 through April 7) are both excellent opportunities to get the message out to the public that distracted driving is both illegal in California and dangerous. They will be visiting schools, conducting traffic safety presentations and using social media to get the word out about the dangers of distracted driving.
According to Sergeant Ray Wert, Orange County Sheriff's Department, "Driving takes one's full attention and any distraction can have deadly, dangerous consequences." It is those consequences that law enforcement agencies hope the public will take notice of and avoid by pledging to drive cell free. Law enforcement agencies that are participating in the nationwide campaign will hold two statewide high visibility enforcement days on April 1 and April 15.
Under California Vehicle Code section 23123, the use of a cell phone while driving a vehicle is illegal unless it is being used as a hands-free device. Texting while driving (i.e. sending, reading or writing texts) is also illegal under this code section. California's ban on handheld cell phones and texting while driving is a primary enforcement law. This means that law enforcement officers can issue a traffic ticket for a violation under this code section without any other violation being committed.
According to an article in The Hanford Sentinel, there will be "zero tolerance" during April for distracted driving violations. The CHP advises that drivers should obey all traffic laws, do not use your phone will driving and never drive after drinking alcohol. Drivers should remember that distracted driving violations cover more than texting while driving and handheld cell phone use. It also covers any task that distracts the driver from the primary purpose of driving such as eating or changing the radio station. Law enforcement officers throughout California will be especially vigilant during the month of April with regard to distracted driving violations.
Fighting California Traffic Tickets
If you received a traffic ticket anywhere throughout California, contact Ticket Snipers now for more information about our traffic ticket dismissal service. We are here to help you 24/7. It is our job to keep you out of traffic court while we work to get your ticket dismissed. With a money back guarantee, you have nothing to lose except your good driving record if you choose not to contact our office.